At just 8-years-old, Daniel loves what most kids his age do: playing, reading, and of course, his iPad.
"He's a happy little kid," says mom, Olufunke.
Daniel was born with Down Syndrome and later received an autism diagnosis.
"My husband unfortunately passed away almost seven years ago, two weeks before (Daniel's) second birthday. So, trying to navigate special needs and surviving and just making sure everything is taken care of is a challenge."
Daniel requires intensive therapies several times a week and he attends a special school that offers Applied Behavioral Analysis (ABA) therapy.
"With the pandemic, my son's therapy was changed quite a bit," Olufunke says. "I got leery about who could come into the house or services I could use. It was just challenging to find home health to do speech, occupational therapy, or physical therapy at his ABA center. So, I'd given up because I tried, and it was hard."
Olufunke is a senior medical director at Teledoc, which can be a very demanding job. A colleague suggested she explore Dari by Homethrive, a caregiving benefit offered through work.
"I looked at it first and I thought I don't think I can benefit from it," she says. "It's kind of like for parents or older people."
But, after Olufunke investigated it, she was pleased to learn Dari could, in fact, help her coordinate care for Daniel. She signed up and was paired with Care Guide, Monica.
"She is the best thing to happen," Olufunke says. "Tell her boss she needs a raise or something!"
She says Monica took time to get to know her and Daniel and immediately got to work making calls on their behalf to find therapists, to verify insurance coverage, and more.
"She waved a magic wand and she found me the best speech therapist we could have ever asked for," says Olufunke. "She just went above and beyond. I was just really impressed that she cared for me and my family to build that relationship with me."
If you're ready to start working with Dari by Homethrive, sign up by clicking the button below!
*use your work email or promo code to register.
Over the holidays, Daniel caught COVID-19 and was hospitalized.
"He was sick for six days with high fevers...his oxygen level dropped so I took him to the ER," she recalls of the experience.
When Monica learned about it, Olufunke says she immediately checked in and offered to help get him discharged when the time was right.
"'You have a case manager,'" she recalls Monica telling her. "'You can give me their contact number and I can connect with them help you get it all set up.' She just went over and beyond. The way she cares for my kid, I can feel it on the phone."
Olufunke says she's become an ambassador at her office, telling colleagues to take advantage of the Dari by Homethrive caregiving benefit.
"If people just realized how much of resource Dari by Homethrive is, how it could really help their lives with things they're fighting, it's just so helpful," she says. "To have somebody like Monica, who does the due diligence, calls the people, gives them your information, and confirms that they accept your plan, it's lifesaving. She knows her stuff and she gets it done. It's a huge time saver for sure."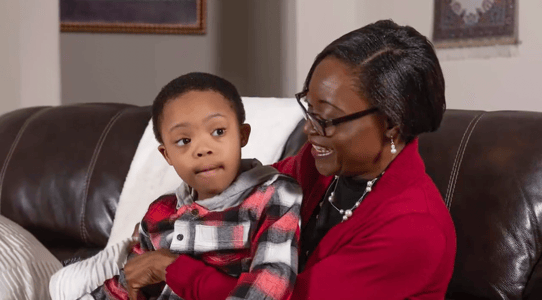 Dari by Homethrive can save you time, lower your stress, and help you bring your whole self to work. Join today and see for yourself!